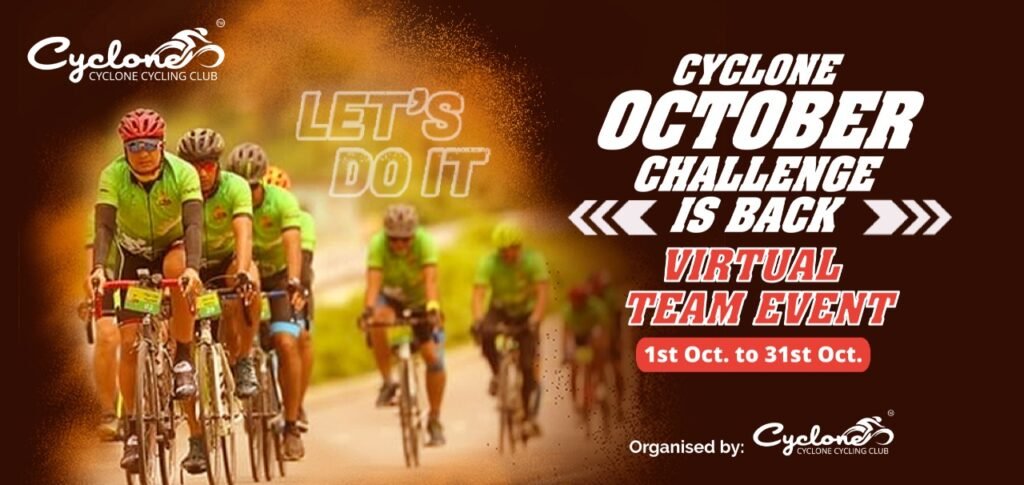 Cyclone October Challenge 2021
October is a beautiful month!
It is a time when the rains descend and the winter ascends. Many movies have been made using the title 'October'. However for cyclists in Ahmedabad the story is different.
For Ahmedabad cyclists, a "Cyclone" regularly arrives in October! This October Cyclone brings all the cycles and their riders on the roads! This Cyclone is none other than the October Cycling Challenge organised by Cyclone Cycling Club of Ahmedabad.
Tie those laces/Strap your Shoes, wear your helmets, oil your cycle's chain and bring your team-spirit hiding in the basement to the top of your roof. If you thought office or family was tough, the October Challenge is going to challenge you as an individual, as a team member and as a team leader.
Start registering now to have the experience of the year.
Registrations opening soon.
RULES OF THE GAME:
(Only of Cyclone Club Members)
Date of Challenge: 1st October to 31st October 2021

Every Monday is day-off for Rest.

We are keeping day-off for three days for Navratri festival:  October 9 (Sat), 10 (Sun) and 11 (weekly Monday off)

Registration Charges: INR 700 (non-refundable)
Teams:

Each team will have 10 riders

Teams will be selected randomly via a random algorithm decided by Cyclone COC Team.

Each team will have 10 Riders in the group; Maximum 8 riders from the group to ride in a day. Team may give rest to 2 riders daily. Even if all 10 riders are riding on a particular day, we will consider 8 riders for the calculation.

Minimum 4 members must ride on a day for the team's mileage to be counted.
STRAVA IS MUST: All participating members are required to be on Strava and their cycling activities should be on Strava during the challenge period.

Entries to be updated on the cyclone website, max by 12 noon next day; the riders posting later will not be considered.

Manually added data without using App will not be considered.

Tagged activity on Strava will not be considered.

This is a cycling challenge and hence only cycling activities will be considered for the challenge.

Kilometer Criteria:

While riders are free to ride as many KM possible every day during the entire challenge but to keep the challenge competitive, we will consider Kms as per below:

On Weekdays (Tuesday to Saturday): A minimum of 20km and maximum of 35 Km in a weekday (Tuesday to Saturday), will be considered

On weekends (Sunday): A Minimum of 50Km & Maximum of 80Km will be considered.

 Last Sunday of the Oct month: A minimum of 50Km & maximum of 100Km will be considered.

BRM Consideration: People who are doing BRM during October month, the BRM ride will be considered and maximum kilometers as per challenge criteria will be considered, i.e. 35 km for weekdays (Tuesday-Saturday) and 80/100 km (Sunday) for the Weekend.
Bonus:

Bonus: Teams which have 8 members cycle on any day, during the challenge (with criteria of point 6) will get a bonus of 20% on that day.

Example – if 8 members together clock 200 KM, they will get 240 KM. Also we want only 8 riders out of 10 in the team to ride in a day. (Point 3C)

Super Bonus: All teams which have all its members (8 members) cycle for 15 days or more (October 1st to 31st) will get a 50 KM bonus for the team, at end of the month.  (Only one Super Bonus per team).

Special Bonus: All riders of the team (8 members) who do 80 KM ride on all the Sundays will get special bonus points, which is 20% of the total km clocked for the month.

Common Route Ride: To bring in more harmony and know cyclone riders better across the chapter every Saturday of the month we will have a common route ride during the event. Though it is not mandatory but all team members must try to attend
Cycling Jersey: Teams can have their own Cycling Jerseys but to have the CYCLONE CYCLING CLUB Logo on the jersey is mandatory. Teams can contact the Cyclone jury team to get the best deal of making a jersey.
Team Winning Criteria: The top 3 teams which collectively clock maximum kilometers during the challenge period will be declared the winner of the challenge as per top 3 clocked miles.
Individual Medal Eligibility: Riders need to clock Minimum of 400 km during October challenge, to get eligible for the Medal & Certificate.
If Rider clock Kms below 400Km, will get ONLY  Participation certificate.
Recognition: Highest Mileage for riders (Individual) – Male & Female will get recognition
We are still under the fear of Covid, all Covid protocols to be followed by all riders
For any dispute, jury decision will be final.
| Team | Total Km | Rank |
| --- | --- | --- |
| Team-1 Riverfront Racers | 12090 | 1 |
| Team-8 Gotila Gladiators | 12083 | 2 |
| Team-6 The Dynamic Paddlers | 12064.56 | 3 |
| Team-4 The Wind Breakers | 12048 | 4 |
| Team-5 Sabarmati Superkings | 9770 | 5 |
| Team-2 Cadence Kings | 9529.32 | 6 |
| Team-3 SBR Free Wheelers | 9087.11 | 7 |
| Team-7 Ahmedabad Warriors | 8076.6 | 8 |
| Team-9 Flying Paddlers of SBR | 7166.72 | 9 |
| Team-10 Karnavati R3 Riders | 6039.62 | 10 |
| Team-11 Gujarat Smart Riders | 5937.1 | 11 |