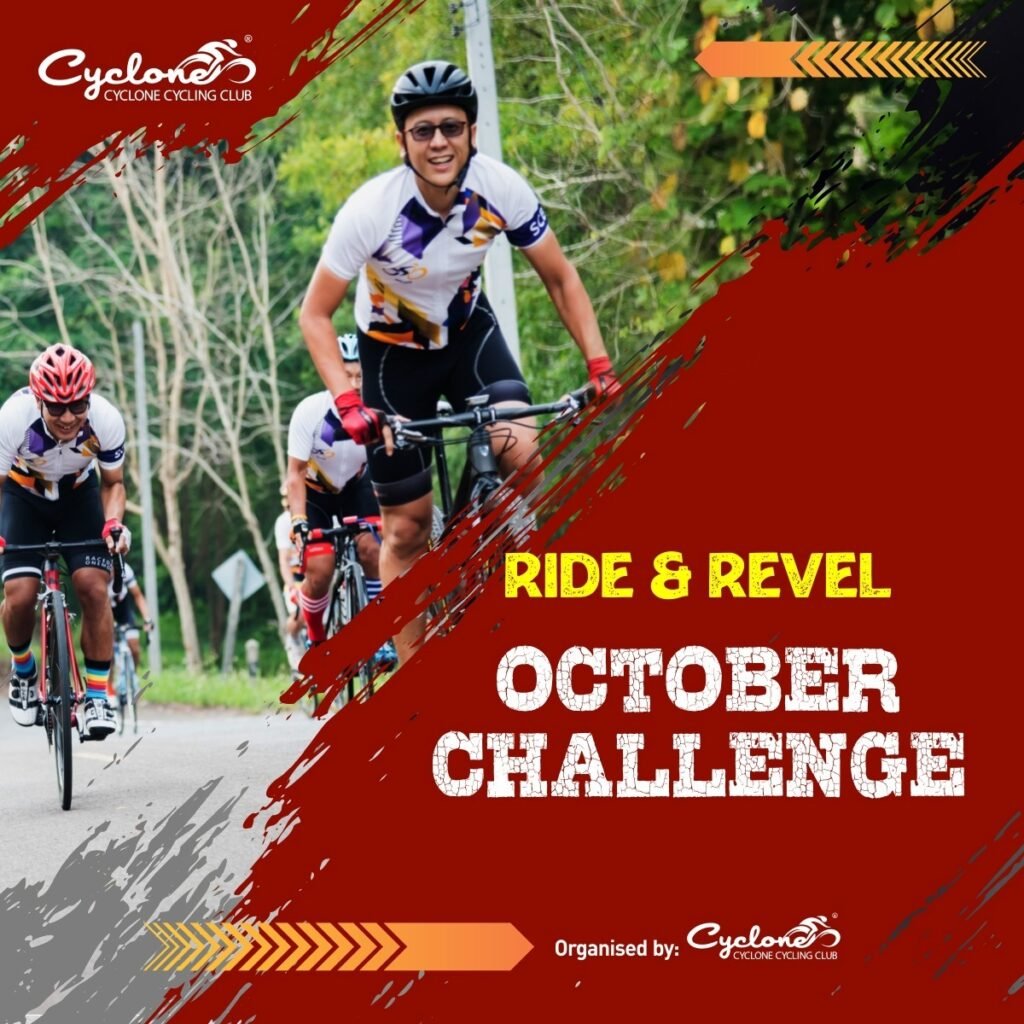 Cyclone October Challange (COC)
Cyclone October Challenge 2023
For Ahmedabad cyclists, a "Cyclone" regularly arrives in October! This October Cyclone brings all the cycles and their riders on the roads! This Cyclone is none other than the Cyclone October Challenge (COC) organised by Cyclone Cycling Club of Ahmedabad.
COC is a yearly festival for cyclist of all ages, members take COC for variety of reasons; getting back on saddle, improve endurance / speed, learn technical about cycling and make new cycling buddies.
It's a team event and at the end of the day we all are one team.
Format remains similar to past years, with small changes and introductions this season.
One material change we are doing this time is more flexibility during Navaratri, so that members can balance their garba steps and cycling cadence.
RULES OF THE GAME:
COC dates: 1st October to 3rd November 2023. (3 days in Nov is to compensate off days during Navaratri).
Every Monday is Off-day for Rest.
10 days of Navaratri & Dusshera, shall have only 4 riding days, including the first day of Navaratri which is Sunday. For easy reference, please find Calendar and Mandatory days as below:

TEAMS:
Each team will have 10 riders
Teams will be selected randomly via a random algorithm decided by Cyclone COC Team.
Each team will have 10 Riders in the group; Maximum 8 riders from the group to ride in a day. Team may give rest to 2 riders daily. Even if all 10 riders are riding on a particular day, we will consider 8 riders for the calculation.
During Navaratri, bonus shall apply on 5 riders instead of 8.
Minimum 4 members must ride in a day for the team's mileage to be counted.
Team Captain Selection by Team: Each team shall have a captain, elected by team. Captain shall represent team for any clarifications needed and shall be briefed for all updates, surprises and rankings of the team.
Common Group of all Captains: Cyclone shall make a common group of all captains for updates and exchange. Teams can make their watsapp group, which shall have committee members as observers.
Indoor Trainer NOT Allowed.
RECORDING OF RIDES:
STRAVA/GARMIN IS MUST: All participating members are required to be on Strava/Garmin and their cycling activities should be on these apps during the challenge period.
All the riders must join cyclone cycling club on Strava https://www.strava.com/clubs/CycloneCyclingClub
Entries to be updated on the cyclone website, max by 12 noon next day; the riders posting later will not be considered.
Manually added data without using App will not be considered.
Tagged activity on Strava will not be considered.
This is a cycling challenge and hence only cycling activities will be considered for the challenge.
All the participants need to keep their profile public for the transparency of results.
KILOMETERS CRITERIA:
While riders are free to ride as many KM possible every day during the entire challenge but to keep the challenge competitive, we will consider Kms as per below:
On Weekdays (Tuesday to Saturday): A minimum of 20km and maximum of 35 Km.
On weekends (Sunday): A Minimum of 50Km & Maximum of 75Km will be considered.
Last Sunday of the challenge: A minimum of 50Km & maximum of 100Km will be considered.
BRM Consideration: People who are doing BRM during October month, the BRM ride will be considered and maximum kilometers as per challenge criteria will be considered, i.e. 35 km for weekdays (Tuesday-Saturday) and75/100 km (Sundays)
BONUS:
Teams which have 8 members cycle on any day, during the challenge as per the criteria will get a bonus of 20% on that day.
Example – if 8 members together clock 200 KM, they will get 240 KM.
Super Bonus:
All teams which have all its members (8 members) cycle for atleast 15days (October 1st to 3rd Nov) will get a 50 KM bonus for the team, at end of the month. (Only one Super Bonus per team).
OTHER TERMS:
Common Route Ride: To bring in more harmony and know cyclone riders better across the chapter every Sunday of the month we will have a common route ride during the event. Though it is not mandatory but all team members must try to attend
Cycling Jersey: Teams can have their own Team Jerseys but to have the CYCLONE CYCLING CLUB Logo on the jersey is mandatory. Teams can contact the Cyclone jury team to get the best deal of making a jersey.
Winners/Finishers/Recognition:
Team Winning Criteria: The top 3 teams will be announced at the end of the challenge and will be recognised.
Individual Medal Eligibility: Riders need to clock Minimum of 400 km during October challenge, to get eligible for the Finisher Medal & Certificate.
If Rider clock Kms below 400Km, will get ONLY Participation certificate.
Recognition: Highest Mileage for riders (Individual) – Male & Female will get recognition
For any dispute, jury decision will be final.
Happy Cycling
Team COC
Team Cyclone