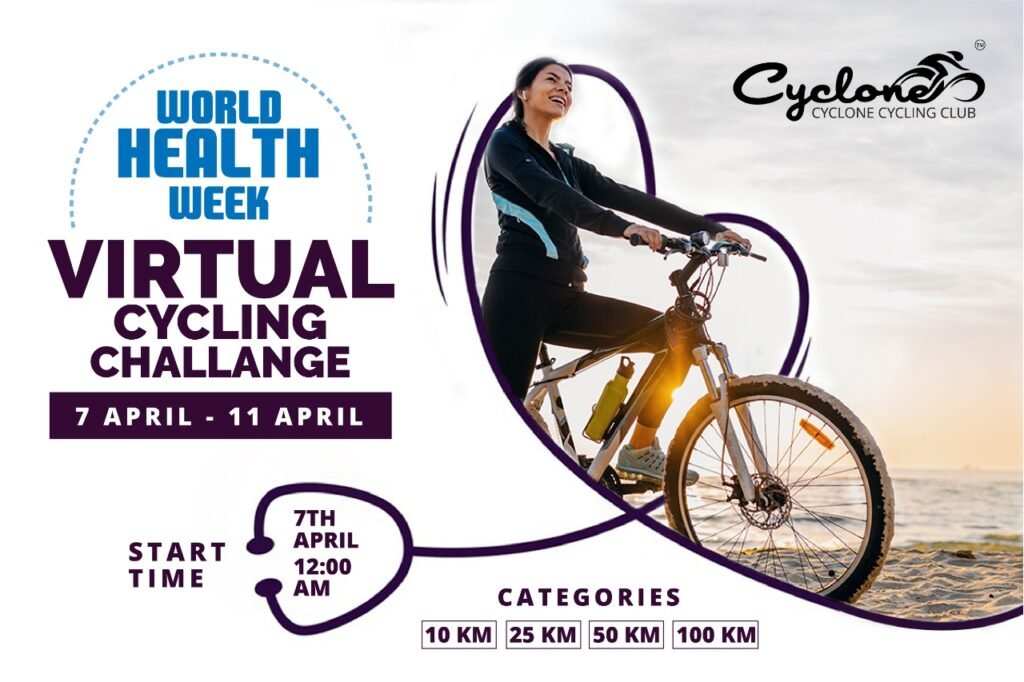 World Health Week (Virtual Event)
7th April 2021 is World Health Day.
With all your love and support Cyclone Cycling Club brings to you the extended version of "World health week virtual challenge" to keep your fitness on track.
ONLY ONE RIDE, BETWEEN 7TH-11TH APRIL.
Your location Your convenience and your passion!!
Event: Date: 7-11 April 2021 (ANY ONE DAY, ONLY ONE RIDE)
Ride Categories: 10 Km | 25 Km | 50 Km | 100 Km (Choose any One Distance)
Even If you do multiple rides during these days, you are allowed to upload only One ride.
All the participants will get an E-certificate and Medal (Couriered at home post event)
Participants can upload ONLY ONE Ride, during the event days (7th-11th April)
RULES OF THE GAME:
1. The registration fee is non-refundable.
2. You can choose any distance, but whatever you choose, you need to ride minimum of that much of distance. For Example: If you choose 25Km distance, then you need to ride minimum of 25Km. Even if you ride 24.99 Km, you will be considered in 10Km Category.
3. you need to do only one ride during 7th-11th April, Incase you do ride daily or you do multiple rides in a day, you are allowed to upload only one ride with maximum distance.
4. If you choose for X Category (for example: 25Km) and you do cover higher category distance (ex: 50Km or above) then you will get medal for heigher category distance (ex: 50Km) and not for lower category (ex: 25Km) what you chose for.
5. Our team will verify all the data and found any unfair means done, then that will result in disqualification.
6. In case of any dispute the Final decision will be under the hands of the organizer.

4. Organizers and their associates take no responsibility for any participant throughout the event.
Data Submission Details:
1. A participant has to register for the event on cyclone.org.in
2. A participant need to record ride using the Strava, Garmin, Samsung, Health Daily Mile, Endomondo, or any other App which is used to record the ride with map. Map must be visible on ride data. Manual Entry on your device will not be allowed.
3. The data needs to be uploaded on www.cyclone.org.in for verification.
In the verification form following data will be required:
1. Date
2. Cycling distance covered.
3. Strava Ride (or any other app data link) link to be uploaded
3. Screenshots of your application for data verification
HOW TO UPLOAD DATA:
Log in to www.cyclone.org.in
Go to my event: you will find list of your registered event.
Click on event "Add Activity" in "World Health Week" event
Form will open.
Fill up all required data in form and submit.
Check twice before hit submit button and make sure all details entered are correct.
In case of any query contact us at: 9974135767